2017 Pre-2017 Newsletters Archives
News from the division
2018
December – 2018 DNRC Annual Meeting Minutes and 2018 DNRC Activity Report on-line!
The 2018 DNRC Annual Meeting Minutes and the 2018 DNRC Activity Report are available on-line!
November – Prof Thomas Cardinaels – new nominated DNRC member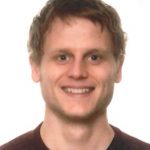 The Belgian chemical society (KVCV) nominated Prof Thomas Cardinaels of SCK•CEN ǀ Belgian Nuclear Research Centre, and the University of Leuven (KU Leuven), as a new DNRC member. Since 2015, Prof. Cardinaels has been a Guest Professor at KU Leuven in the Department of Chemistry, where he is in charge of the courses Nuclear and Radiochemistry. In the same year, he became head of the Radiochemistry group at SCK•CEN, which activities cover a broad discipline of radiochemical analyses, partitioning and conversion of minor actinides, and the synthesis of nuclear fuels. Recently, the research of the group is more and more focussing on the production of medical radioisotopes, and the development and synthesis of therapeutic radiopharmaceuticals. For more details, see his C.V. Welcome on board, Thomas!
September – DNRC Honorary Membership award and the Pro Meritis medal awared to Dr Tony Ware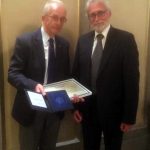 The first of its kind DNRC Honorary Membership award together with the Pro Meritis medal were awarded to Dr Tony Ware during the 13th International Symposium on Nuclear and Environmental Radiochemical Analysis that took place on 17-20th September 2018, Jesus College, Cambridge UK. This particular award was in recognition of the supreme efforts Dr Ware provided in order to set up the Division of Nuclear and Radiochemistry of EuChemS. This came from the vision and drive he has always had to get all the radiochemists in Europe together under one banner, which has led to more and better cooperation across national boundaries. The award and the medal were presented by Prof Jan John, the Secretary of the DNRC.
The role Dr Tony Ware played in the establishment of DNRC is described in detail in the "History of the Division of Nuclear and Radiochemistry section of EuChemS". More details on the award are available in the Honours section, the diploma can be viewed here. Full ERA13 symposium report is available here.
2017
"DNRC Honorary Membership" award established
By the update of its Procedures and Practices the Annual Meeting of the DNRC established this new award. "DNRC Honorary Membership" is designed to honour a person of outstanding merits and long-lasting valuable services for DNRC. More details are available in the Honours section, full conditions in the DNRC Procedures and Practices.
2016
New chairman elected
On August 29, 2016, Prof. Jon Petter Omtvedt was elected as a new chairman at the DNRC meeting that took place during the NRC9 conference in Helsinki.
Major update of the Division web
In connection with the transfer to the new EuChemS web, a major update of the DNRC pages was performed on July 31, 2015.
Pre-2017 Newsletters Archives
Nuclear and Radiochemistry in Europe Newsletter – 2016
Nuclear and Radiochemistry in Europe Newsletter – 2015
Nuclear and Radiochemistry in Europe Newsletter – December 2013
Nuclear and Radiochemistry in Europe Newsletter – December 2012
Nuclear and Radiochemistry in Europe Newsletter – November 2011
Radiochemistry in Europe Newsletter – June 2011
Radiochemistry in Europe Newsletter – December 2010
Older Newsletters at RSC Archives
The very first Radiochemistry in Europe Newsletter – August 1995