An Online Sustainable Chemistry Lecture Series
Organized by researchers at University of Antwerp, Rostock University and Stockholm University, and supported by EuChemS and the Division of Green and Sustainable Chemistry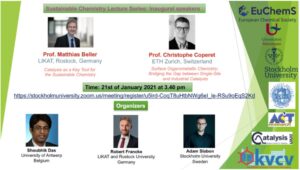 Jan 21st 2021, Prof Matthias Beller (LIKAT Rostock), Prof. Prof. Christophe Coperet (ETH Zurich, Switzerland)
15th February, 2021: Prof. Bert Weckhuysen (Utrecht University, Netherlands),  Prof. Burkhard König (Universität Regensburg, Germany).
2nd March, 2021: Prof. Paolo Melchiorre (ICIQ, Spain), Prof. Brad Chmelka (UC Santa Barbara, USA)
The 9th IUPAC International Conference on Green Chemistry, organized by the Association of Greek Chemists (AGC) in collaboration with the IUPAC Interdivisional Committee on Green Chemistry for Sustainable Development (ICGCSD) and the Hellenic Green Chemistry Network will take place in Athens, Greece between 18th – 22nd October 2020
The IUPAC International Conferences on Green Chemistry (ICGCs) gather several hundreds of scientists, technologists, and experts from all over the world with the aim of exchanging and disseminating new ideas and discoveries, and promoting collaborations within the frame of green chemistry, sustainable development and the circular economy.
ICGC-9 is the 9th of the series of IUPAC conferences on green chemistry, the first having been organized in Germany (2006), followed by Russia (2008), Canada (2010), Brazil (2012), South Africa (2014), Italy (2016), Russia (2017) and Thailand (2018).
More information and instructions regarding the call for abstracts, venue, deadlines, etc. are available at the conference webpage: http://www.greeniupac2020.org/
Please mark your calendar
October 18-22, 2020 for the 9th IUPAC International Conference on Green Chemistry.
We look forward to welcoming you to Athens and to a fruitful and enjoyable conference.
On behalf of the Organizing Committee,
Prof. Konstantinos Triantafyllidis
Department of Chemistry, Aristotle University of Thessaloniki, Greece
Tel.: +30 2310 997730;  E-mail:
Chair of the Organizing Committee