EuChemS 2018 General Assembly will take place in Liverpool, UK. Please find the provisional timetable, as well as the online registration form (obligatory) to be completed by 13 July 2018 below.
If you are unable to attend, but would like to appoint a proxy, please click here and complete the form by 13 July 2018: http://www.euchems.eu/proxy-nomination/
Click here for information regarding accommodation
The suggested hotel is the Jury's Inn Hotel, which was used for the Executive Board meeting in June 2017 and for those who have not stayed there before is almost opposite the entrance to the venue and about a 2 minute walk away.
The rate obtained for this hotel is £109 bed and breakfast single occupancy. If Board members or attendees at the General Assembly wish to take advantage of this rate they will need to follow these instructions:
Go to https://www.jurysinns.com/hotels/liverpool to book accommodation.
Enter your arrival and departure dates and number of rooms/adults/children required.
Click the 'Add Promotional or Group Code' and a box will appear.
Entre the code provided in the email sent to you by Nineta Hrastelj. Please send us an email if you are unable to find it.
Click 'Search Rooms
Royal Society Of Chemistry – BB' bedrooms will show. This includes a full buffet breakfast so this does not need to be added on the next page.
The rooms are on hold at the hotel until 13th July at this rate, after this date the rooms will be automatically released and nor the rate nor availability can be guaranteed.
Important Note:
24 August (afternoon) and 25 August (morning): Executive Board Meeting (only for Executive Board Members)
25 August (afternoon): General Assembly Closed Session (only for EuChemS representatives with voting rights, and Members of the Executive Board)
25 August dinner: the dinner will take place at 60 Hope Street, Liverpool. Organised transport to the restaurant will be available.
26 August (09:00-10:00): General Assembly (for EuChemS representatives with voting rights, Members of the Executive Board, Chairs of Professional Networks, and invited guests)
26 August (10:30-12:30): Chairs of Professional Networks meeting (only for Chairs of Professional Networks, and invited guests)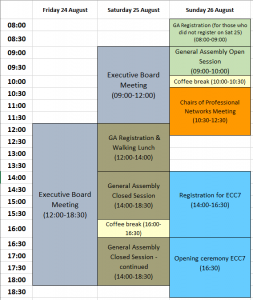 Please note that the registration form below is for the General Assembly. Please click here to register for the 7th EuChemS Chemistry Congress.
Registration
Deadline: 13 July 2018