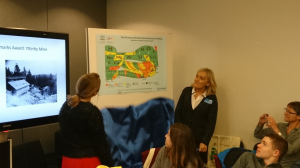 On 22 January, the EuChemS Periodic Table was unveiled by EuChemS President Pilar Goya and MEP Catherine Stihler alongside the oldest known wallchart of the Periodic Table at an event in the European Parliament.
With speakers from the scientific community and from the European Parliament and the European Commission, participants were delivered an outstanding talk, encompassing issues such as element scarcity, EU-led actions in the area, elements at the deep-sea level, the meaning and importance of the International Year of the Periodic Table (IYPT2019), as well as the exhilarating discovery of the Periodic Table wallchart in Saint Andrews.
It was all the more encouraging to see a wide variety of participants attend the event, from representatives from chemical societies, EU institutions, advocacy groups, and a class of some 25 pupils from the European School of Brussels.
We were particularly pleased to see the event and the Periodic Table picked up in news outlets across the world, from the UK to Australia. Listen to David Cole-Hamilton on BBC world, and take a look at this informative article in The Guardian.
Presentations for the event are available online here.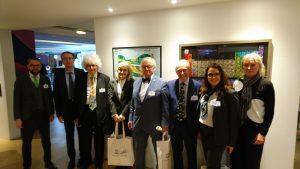 Celebrations for the IYPT2019 truly kicked off on 29 January at the UNESCO offices in Paris, where some 700 participants from across the world came together for a series of talks from leading scientists, along with an entertaining and informative exhibition area. A delegation of EuChemS members were present, along with EuChemS President Pilar Goya, and the secretariat. On display was the Periodic Table depicting element scarcity – which in turn was put in the spotlight by famous YouTuber Sir Martyn Poliakoff during his presentation on the Periodic Tables to be found in his office.
Speakers also included UNESCO Director-General Audrey Azoulay, Chemistry Nobel Laureate Ben Feringa, and Yuri Oganessian, pioneer in the discovery of super-heavy elements.
The event, mixing entertaining and accessible talks with crucial and complex presentations on scientific developments, together with a chemistry bar to unwind, was a great taster of what the year ahead has planned for us.