Kaye Innovation Awards 2020
Congratulations to Prof. Amos Nussinovitch, delegate from Israel at the EuChemS Food Chemistry Division, for receiving this prestigious award!
Prof. Amos Nussinovitch and his team have been working on the topic of edible films and coatings for the past 30 years, developing several novel and innovative coating families and the technologies to apply them. Such coatings have attracted commercial interest from industry and agricultural bodies, mostly due to the many advantages of its large-scale application, namely shelf life extension, extensive decreases in weight loss, extension of market availability for export, prevention of insect infestation, improved appearance/gloss, and even the replacement of plastic packaging materials with biodegradable alternatives.
The 1st prize has been awarded to Prof. Nussinovitch for his work on developing edible protective films to extend postharvest shelf life of fresh and processed fruit and vegetables. For more information see: https://en.hafakulta.agri.huji.ac.il/news/kaye-innovation-award-prof-amos-nussinovitch
Royal Society of Chemistry 2020 Inspirational Committee Award
The Royal Society of Chemistry has given the Food Chemistry Group the 2020 Inspirational Committee Award for developing the food chemistry periodic table in addition to addressing global challenges through events and publications.
43rd Meeting of the Food Chemistry Division
The 43rd FCD meeting was  held prior to the XX EuroFoodChem conference, on 16th June at the Pharmacy Faculty of Porto University.
Delegates from 14 countries were present at the meeting, which was also joined by the Chair and Co-Chair of XX EuroFoodChem.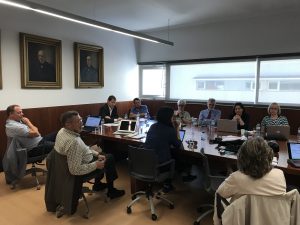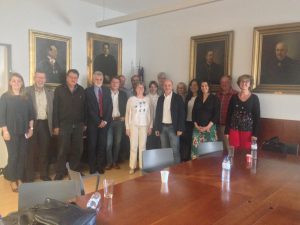 The 44th FCD meeting will take place in 2020 (location to be announced).
Contacts & Further Information
Past FCD Meetings
42nd Meeting of the Food Chemistry Division
The 42nd FCD meeting will be held prior to the conference 3rd International Congress on Food Science and Technology
FCD meeting starts at 13:00 on Thursday 29th November.
Venue: Head Office of the Hungarian Chemical Society
1015 Budapest, Hattyú u. 16. 2nd floor room No 8
41st Meeting of the Food Chemistry Division
41st FCD meeting will be held prior to the conference
Tuesday 3.10.2017, Budapest, HU, starting at 11:30