Last updated 10/05/2018
Teams of the EYCN 
The EYCN lives and thrives through the outstanding work of its members. We are a motivated team of young scientists representing chemical societies from more than 20 European countries. Each society nominates up to two delegates for representing it in the annual Delegate Assembly (DA) and in the EYCN throughout the following year.
The delegates of the member societies are organized in four teams: Membership Team, Networks Team, Science Team and Communication Team. Each of those teams is managed by a Team Leader.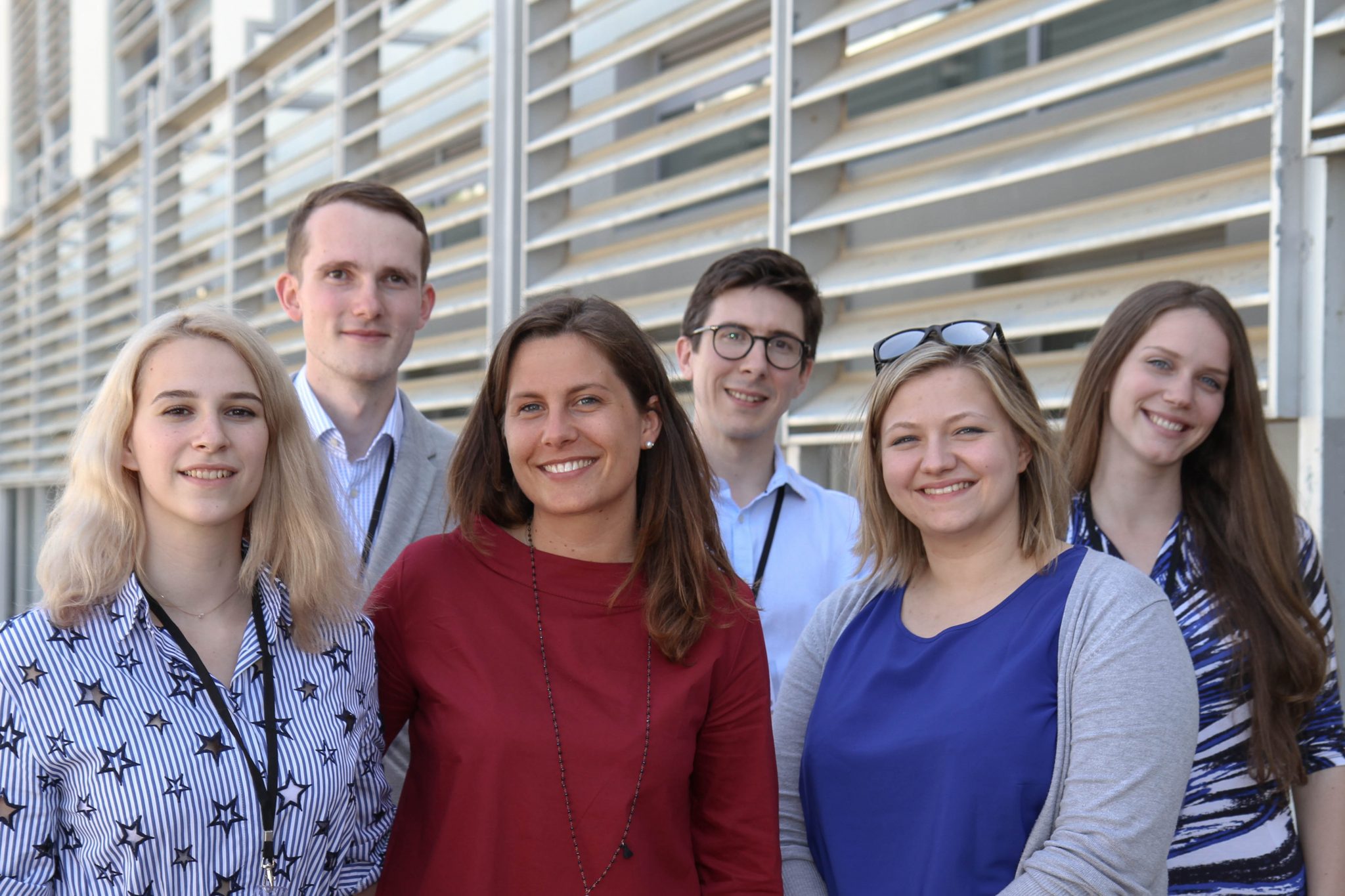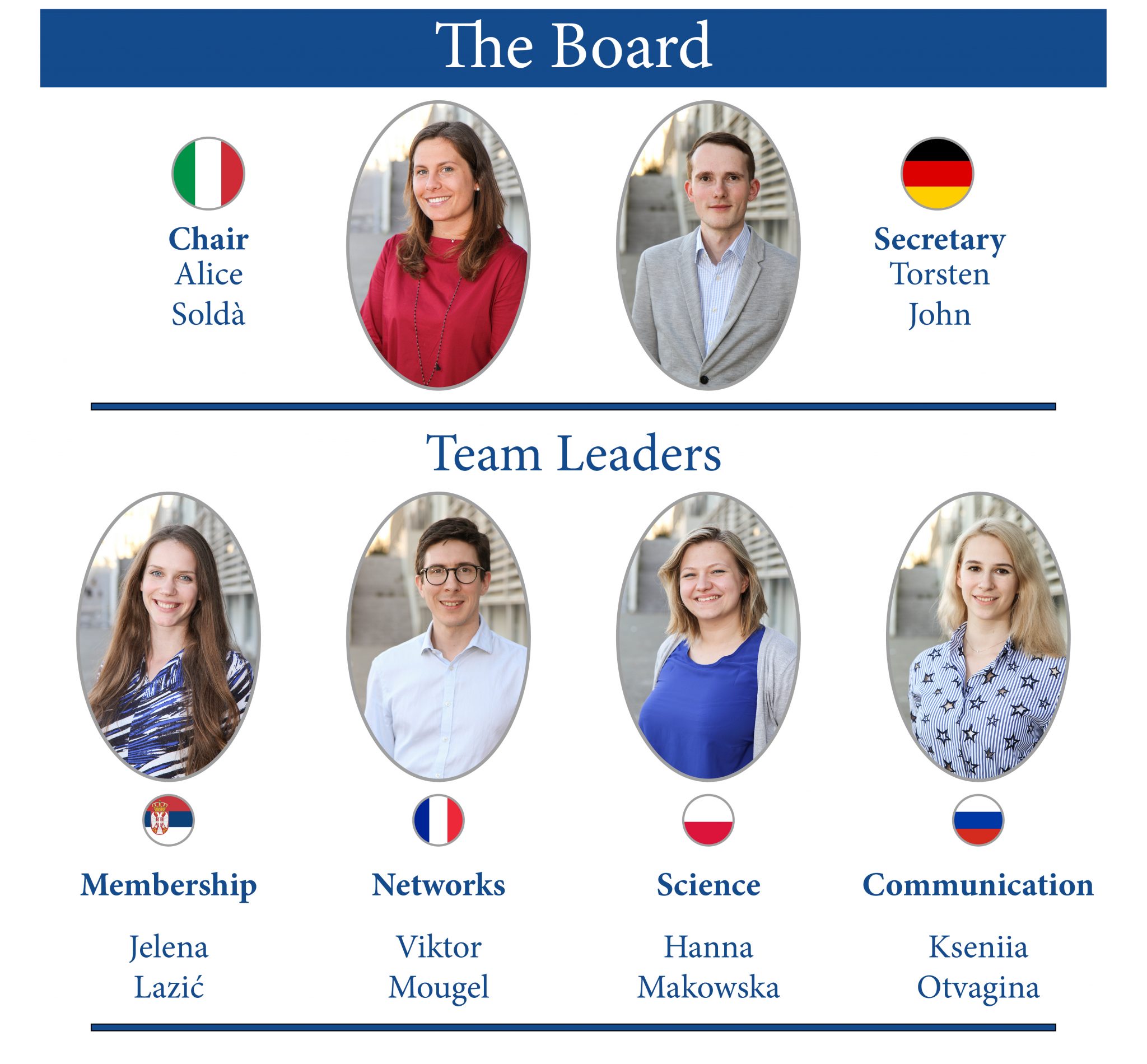 Here, we present the Teams, along with Team members, and the main tasks that each Team has within the EYCN (photos only show members who were present at the 13th Delegate Assembly in 2018):
Membership Team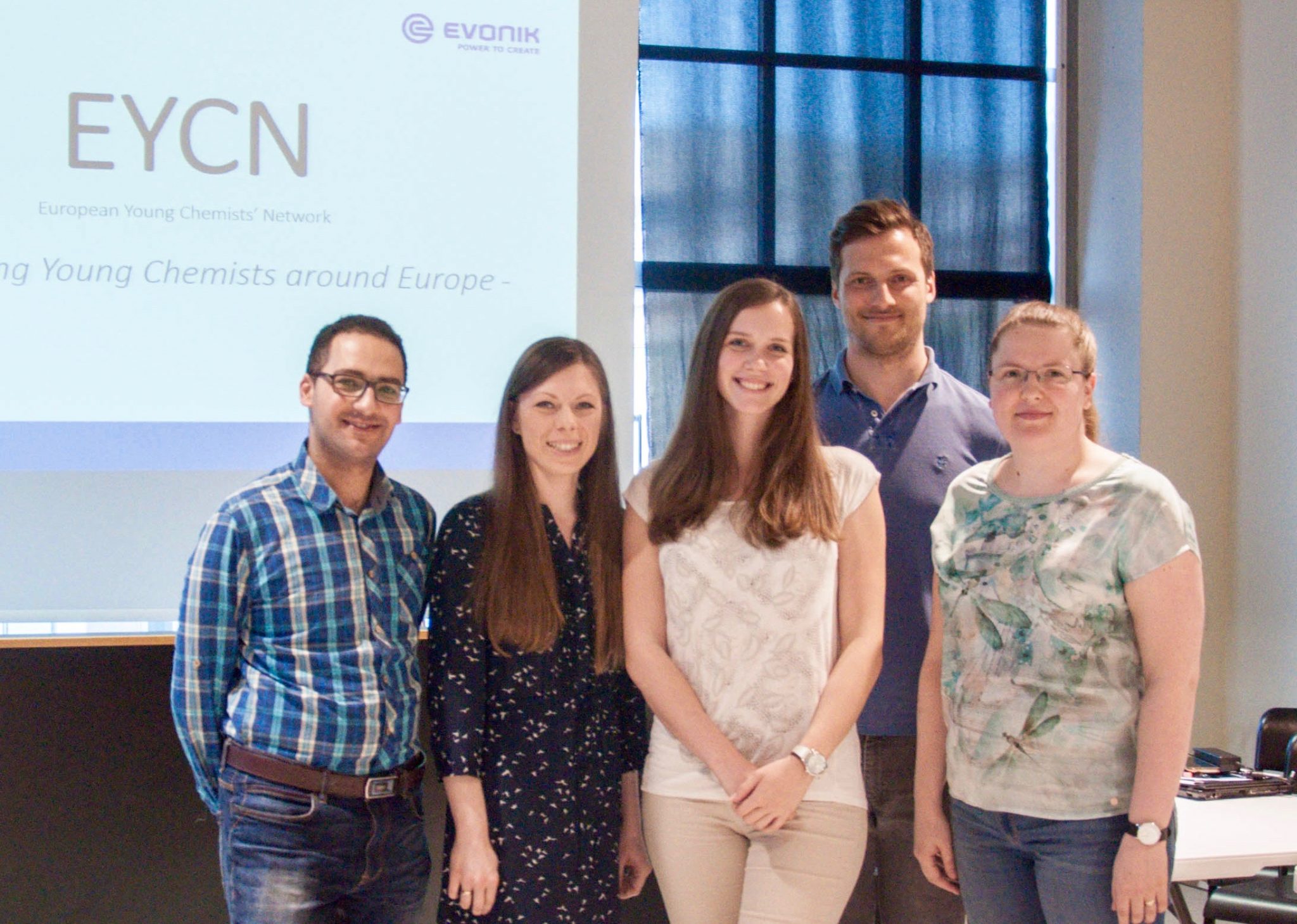 Membership Team (from left to right): Mark Kelada (IRL), Justyna Piechocka (POL), Jelena Lazić (SRB), Emanuel Ehmki (DEU), Tiina McKey (FIN)
Tasks of the Membership Team are to:
establish contact with new European societies of young chemists (if your young chemists' division is not a member of EYCN, please contact us at );
keep information of the national delegates and member societies up to date;
renew connections with the societies that stopped sending delegates;
create an EYCN Welcome Package (Welcome Letter, Flyer, Fact Sheet);
keep the information about recent activities and future projects on the EYCN website page up to date;
manage the e-mail accounts…
Networks Team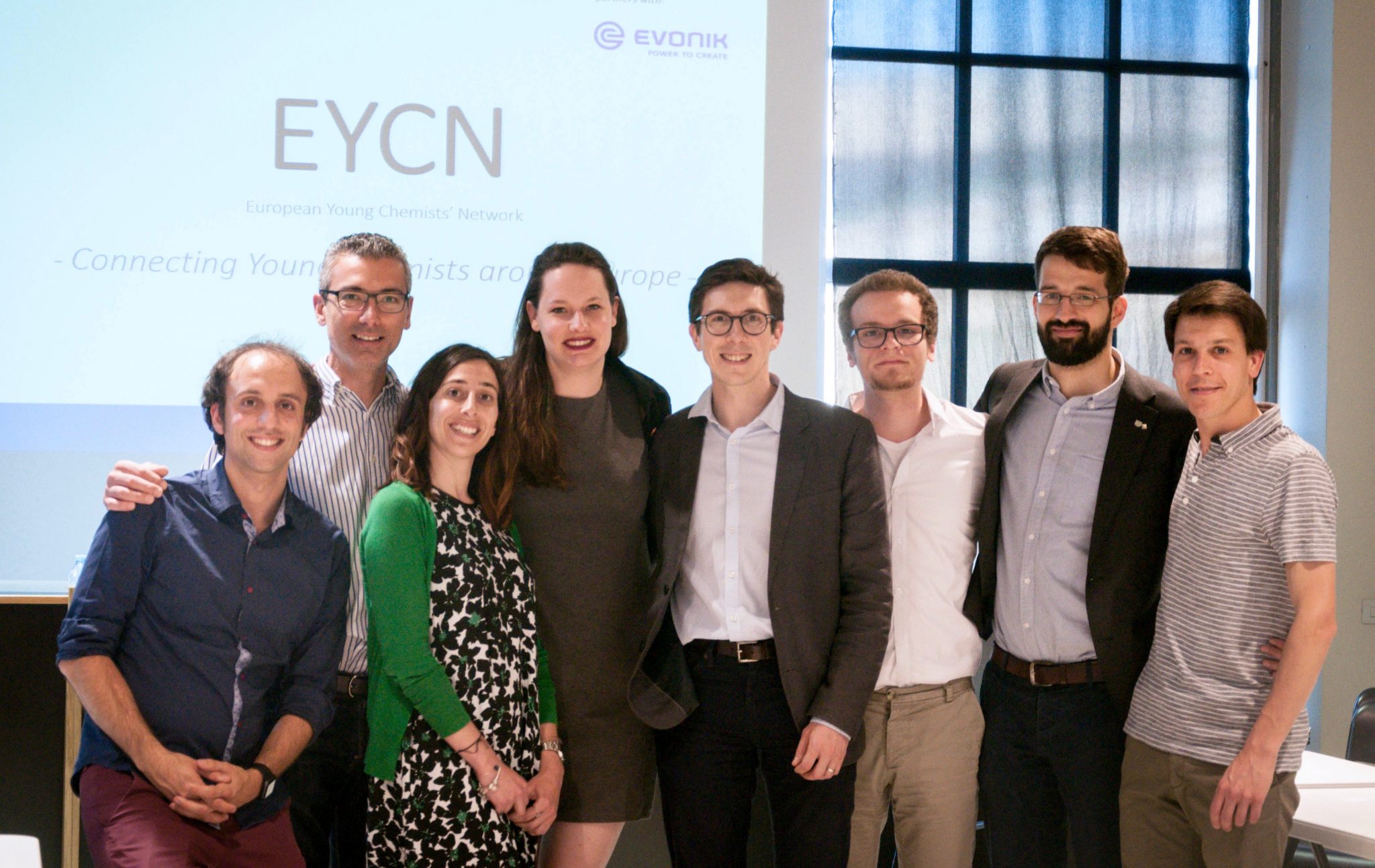 Networks Team (from left to right): Federico Bella (ITA), Michael Terzidis (GRC), Ana Rita Araújo (PRT), Lieke van Gijzel (NLD), Victor Mougel (FRA), Miguel Steiner (AUT), Sebastian Sobottka (DEU), João Borges (PRT); not in the photo Charalambos Papatryfonos (CYP), Anthi Constantinou (CYP), Cristian Gómez Canela (ESP), Dimitra Pournara (GRC)
Tasks of the Networks Team are to:
make the link with policy makers, organizers of scientific events and young chemists;
develop  global and local actions aimed at increasing EYCN impact and providing training/support for young chemists;
identify networking opportunities and set the ground for fruitful collaborations;
draft and propose international projects to the Board for engagement with various partners (European Cooperation in Science and Technology – COST Actions, Marie Curie Training Networks…);
manage the accepted projects from the kick-off meeting to the end and present the deliverables to the Board and the EYCN community in general;
increase the visibility of the EYCN by engaging to various national and international chemistry related projects (Researchers' Night, "Treasure Hunt"…);
provide knowledge on industrial and academic job opportunities in Europe;
connect former recipients of European grants/fellowships with new applicants…
Science Team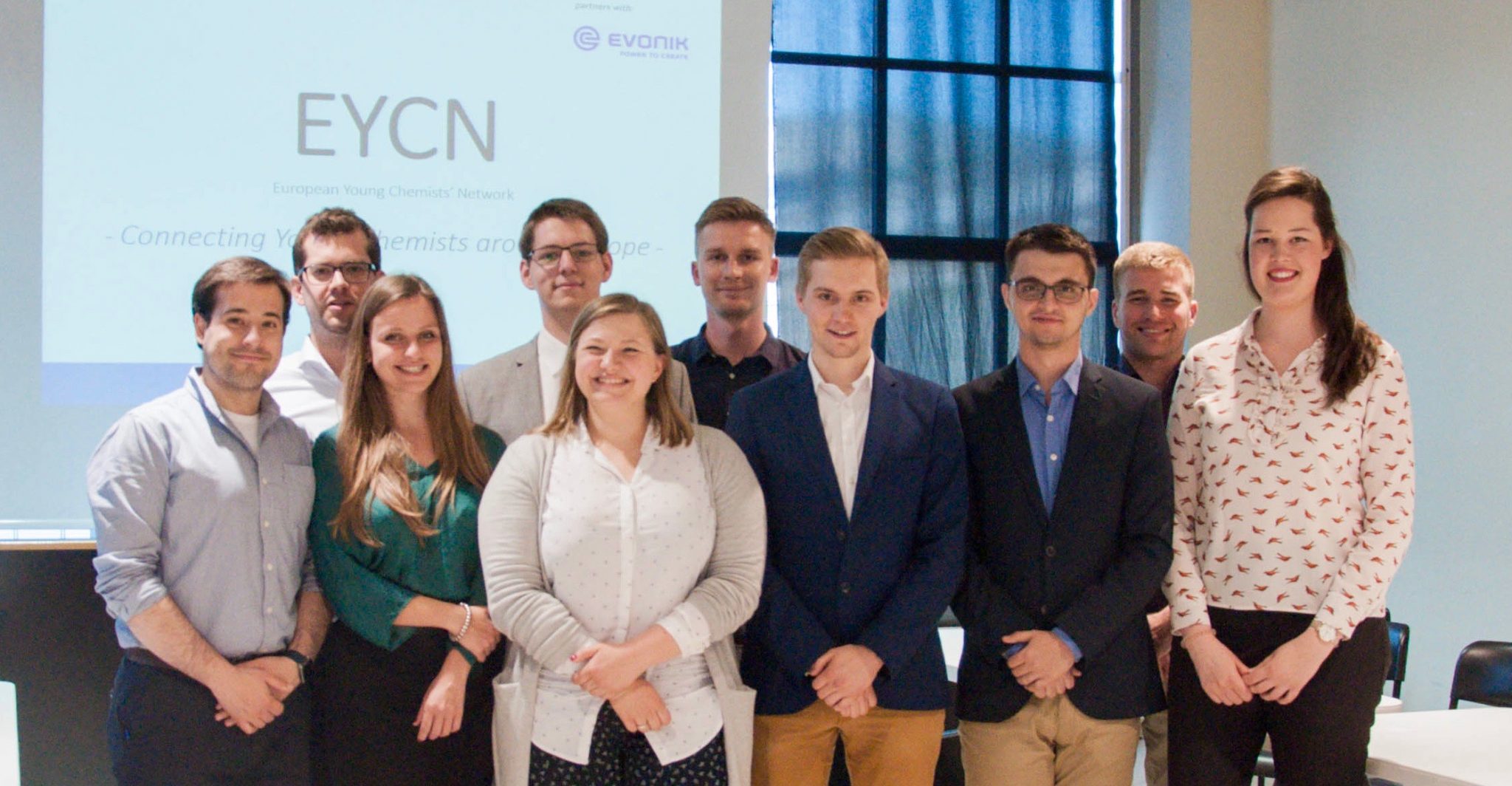 Science Team (from left to right): Antonio Manuel Rodríguez García (ESP), Menno de Waal (NLD), Katarina Josifovska (MKD), Maximilian Menche (DEU), Hanna Makowska (POL), David Novak (CZE), Nathan Carpentier (BEL), Robert Țincu (ROU), John Kelly (USA), Yacintha Vermeer (NLD); not in the photo Julian Dutzler (AUT), Sébastien Prévost (FRA)
Tasks of the Science Team are to:
promote chemistry around Europe (Photochimica – photography contest, Chemistry Rediscovered – video contest);
promote the EYCN around Europe (designing promo materials like posters, roll-ups, for EuChemS conferences);
develop the EYCN (Project Management Course);
support the scientific part of all EYCN projects and events;
organize fundraising for the Science Team projects;
promote the EYCN to the corporations…
Communication Team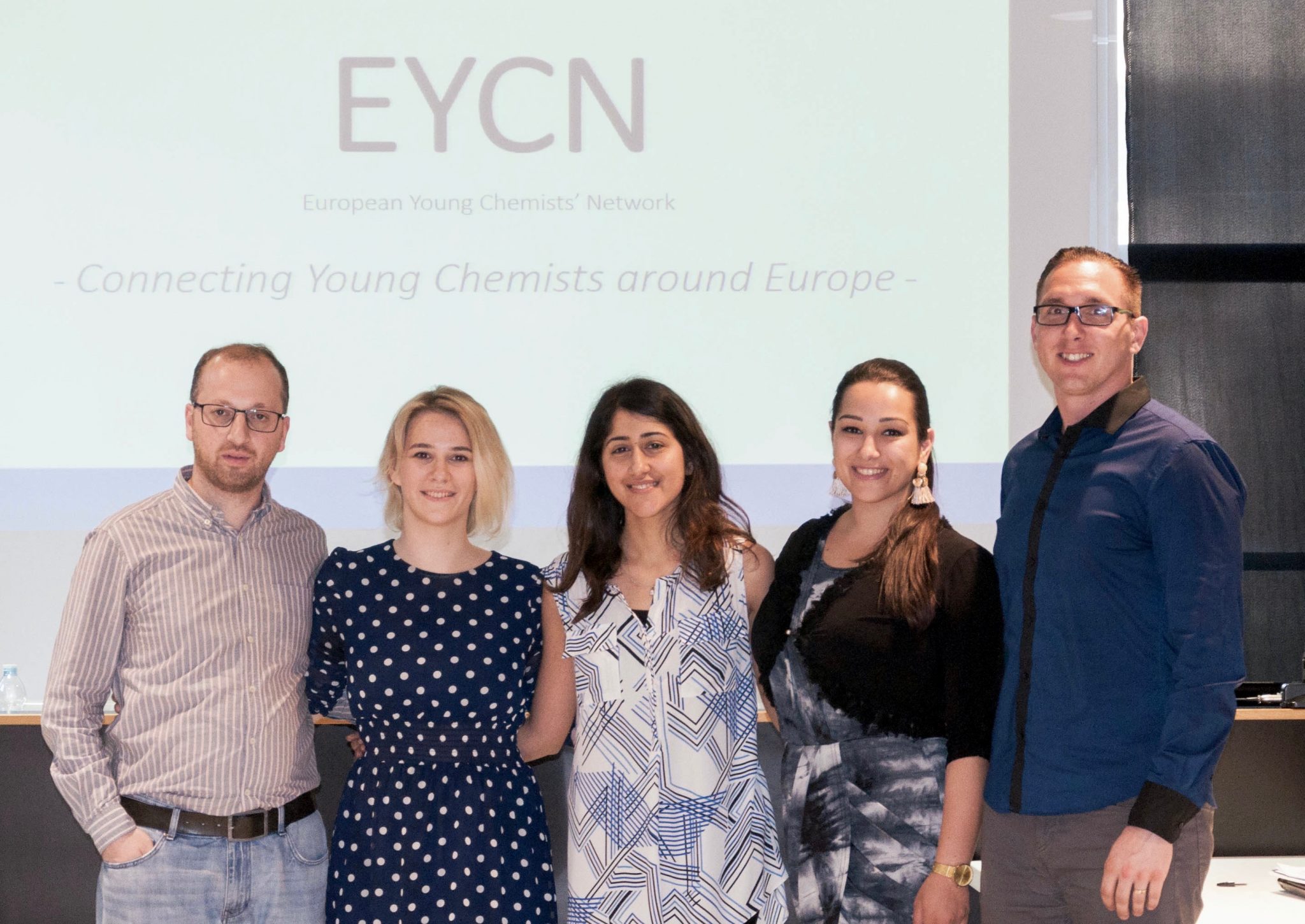 Communication Team (from left to right): Diego García-Gómez (ESP), Kseniia Otvagina (RUS), Nitika Bhalla (GBR), Mária Szabó (HUN), Michal Procházka (SVK)
Tasks of the Communication Team are to:
write and circulate a monthly newsletter to all EYCN delegates and friends;
communicate important information from the Board using social media (Facebook, Twitter and LinkedIn) and e-mail;
maintain social media pages – respond to requests and questions, find and post useful or interesting information;
increase the visibility of the EYCN through social media channels…
Task Force – Industrial Sponsorship
This Task Force was formed in 2018 after the 13th Delegate Assembly in Turin (Italy). The main goal is to increase number of sponsors of the EYCN, especially among the industrial chemistry companies. More information and details coming soon.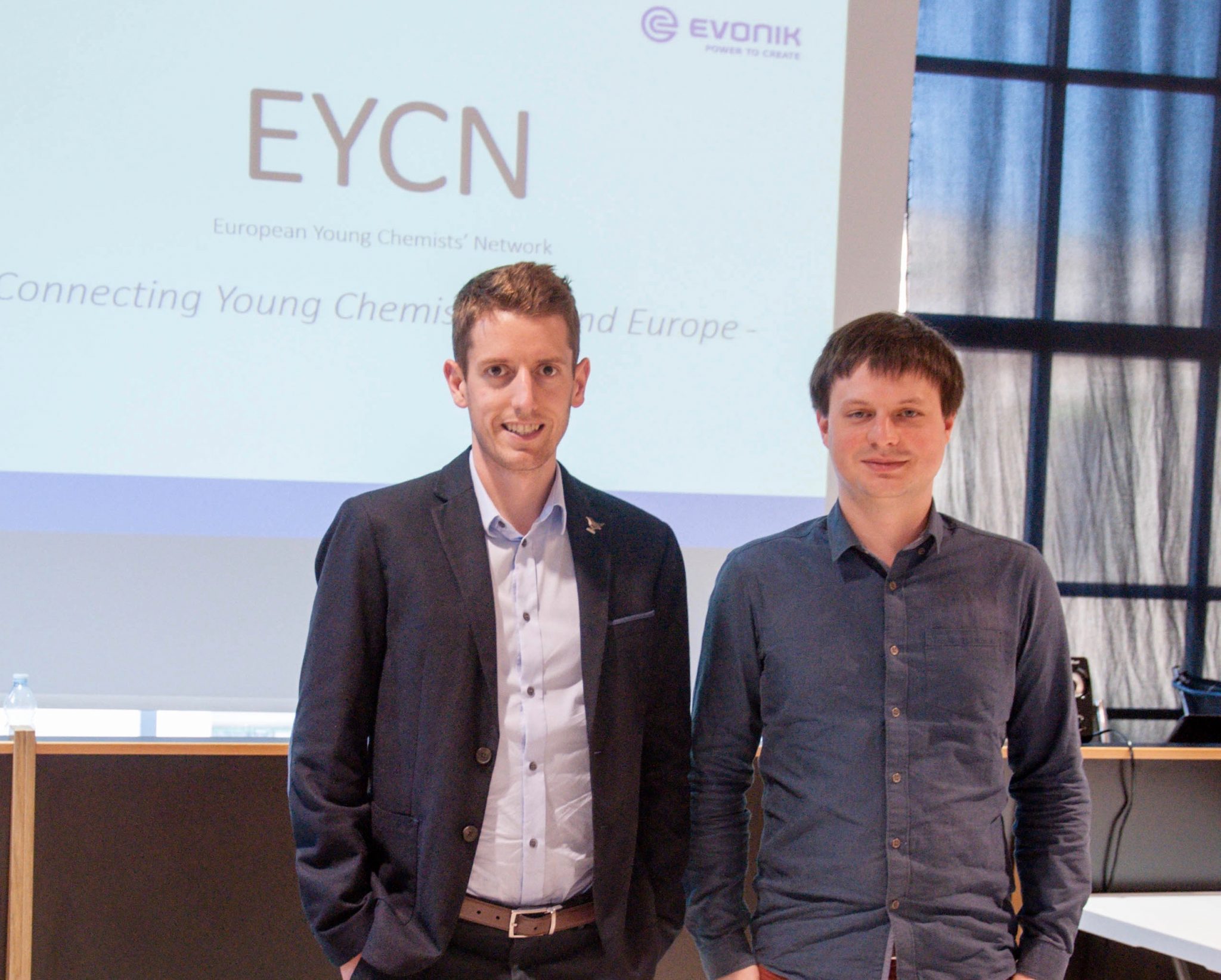 Industrial Sponsorship Task Force (from left to right): Saul Moorhouse (GBR), Thomas Vranken (BEL)