In 2015 we have generated a new system for submitting projects. You can submit projects for which you want to make use of the EYCN resources.
You can apply using this form: PROJECT_PROPOSAL_2017
Please find information about the past EYCN Projects:
Chemistry Rediscovered
After a very successful project, the EYCN wants to thank our partner EVONIK and our sponsors BASF Romania and Brenntag Romania for all the help and support they contributed and an amazing cooperation.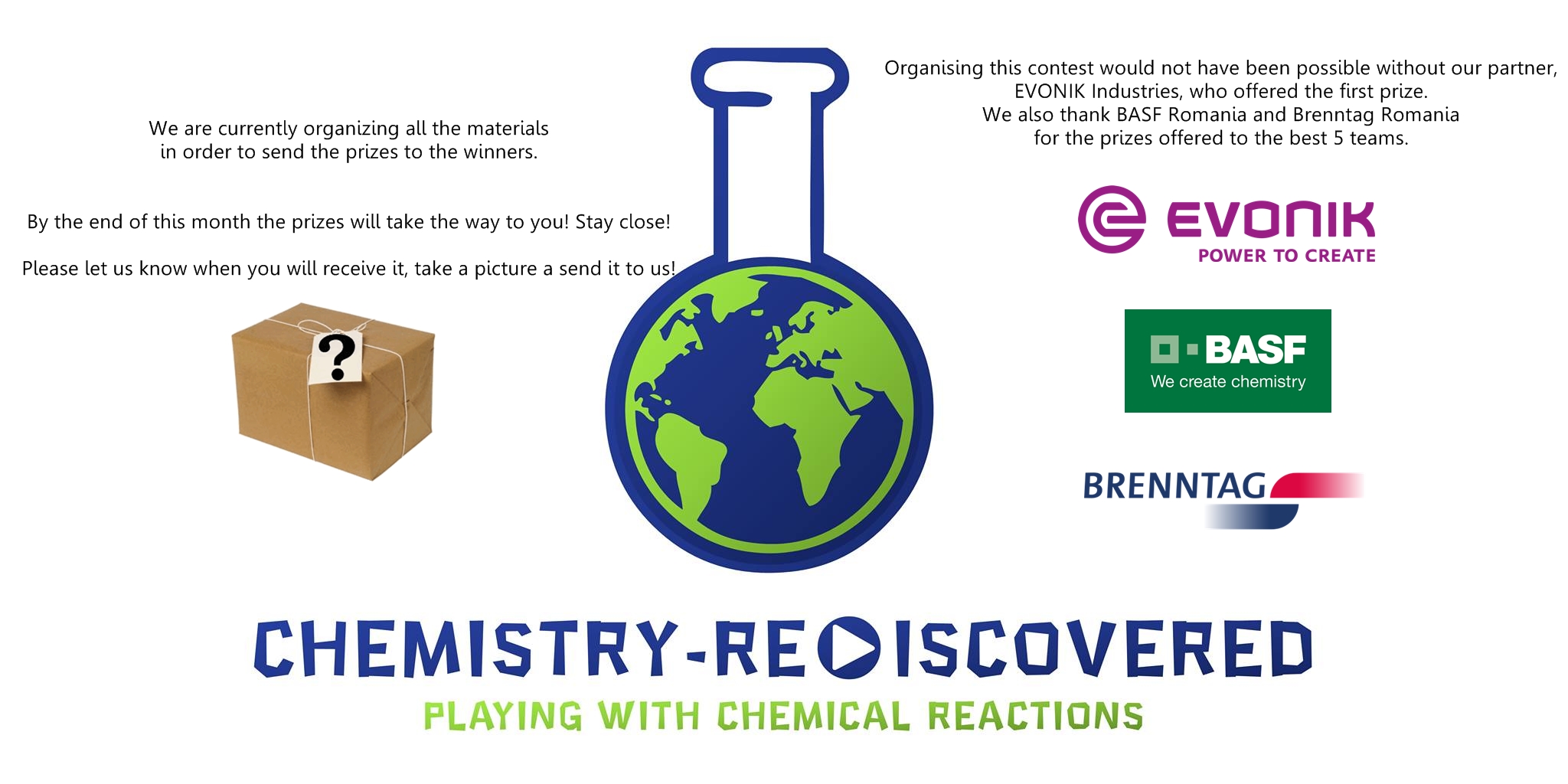 Application Deadline 17th of February: Societies which want to participate have to state that until the 17th of February.
Submission Deadline 16th of May: Projects have to be submitted until the 16th of May. 
The contest intends to promote chemistry among the young high-school students from all Europe. This will be achieved with the help of teachers, who will develop scientific projects together with their students and encourage them to present their findings, in the form of a video-experiment, together with an accurate experimental protocol. The competition will present itself in two stages: a first NATIONAL selection of the two best teams, performed by the chemical society of each country; and a second stage, where the best national representatives will dispute the EYCN award.
Please note the Rules and Regulations and Project Application.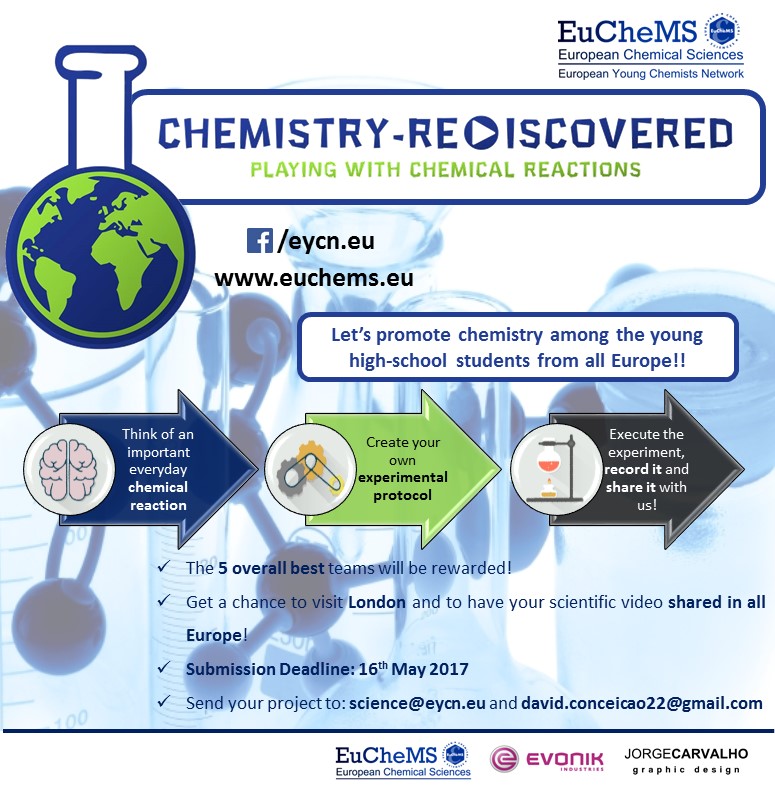 INTERNATIONAL AWARD FOR YOUNG CHEMISTS
Challenging organic syntheses inspired by nature – from natural products chemistry to drug discovery
The Young Chemists Network (EYCN) together with the COST Action CM1407 "NATCHEMDRUGS" are offering one award for a young chemist who is currently within this scientific area.
The award consists of: 100 EUR, free participation at a COST meeting (2nd-3rd March 2017, Krakow – Poland) and an oppertunity to present an oral communication (15 mins) at this international event.
You must be aged 35 or under, working in a COST Member country and working in the scientific field covered by COST Action CM1407. You must also be available to attend the conference to collect your prize!
HOW TO APPLY: Deadline: 15th January 2017. Send your CV and a 1-page abstract of your research (both in PDF format) to the Networks Team (). In your email, please guarantee that you will be able to be present at the award ceremony if you are chosen as the winner.
See the poster below for more details.
Good Luck!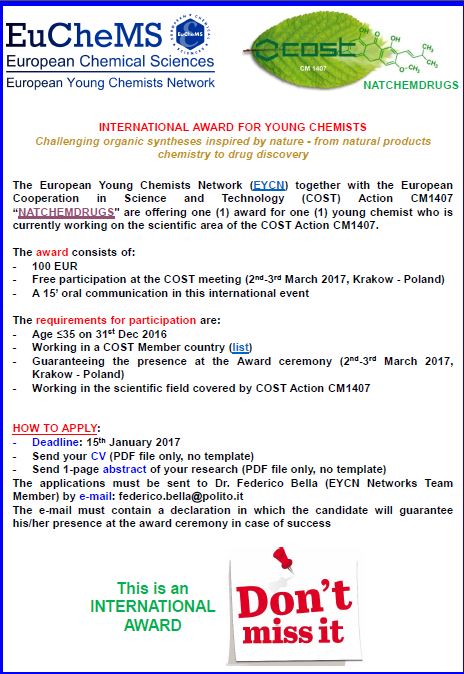 EYCN Career Days
During the upcoming EuCheMS Chemistry Conference (ECC) in Seville (Spain) next September, the EYCN will organise a four-day career event. These "EYCN Career Days" are filled with lectures and workshops which are specifically designed by and for young chemists looking ahead to their future career in academia or industry. In order to achieve these series of events, the EYCN strongly collaborates with industry, academic (funding) institutions and publishing authorities. In addition, the event is jointly organized with the GDCh Career Services & RSC Careers.
Please find below an overview of our program.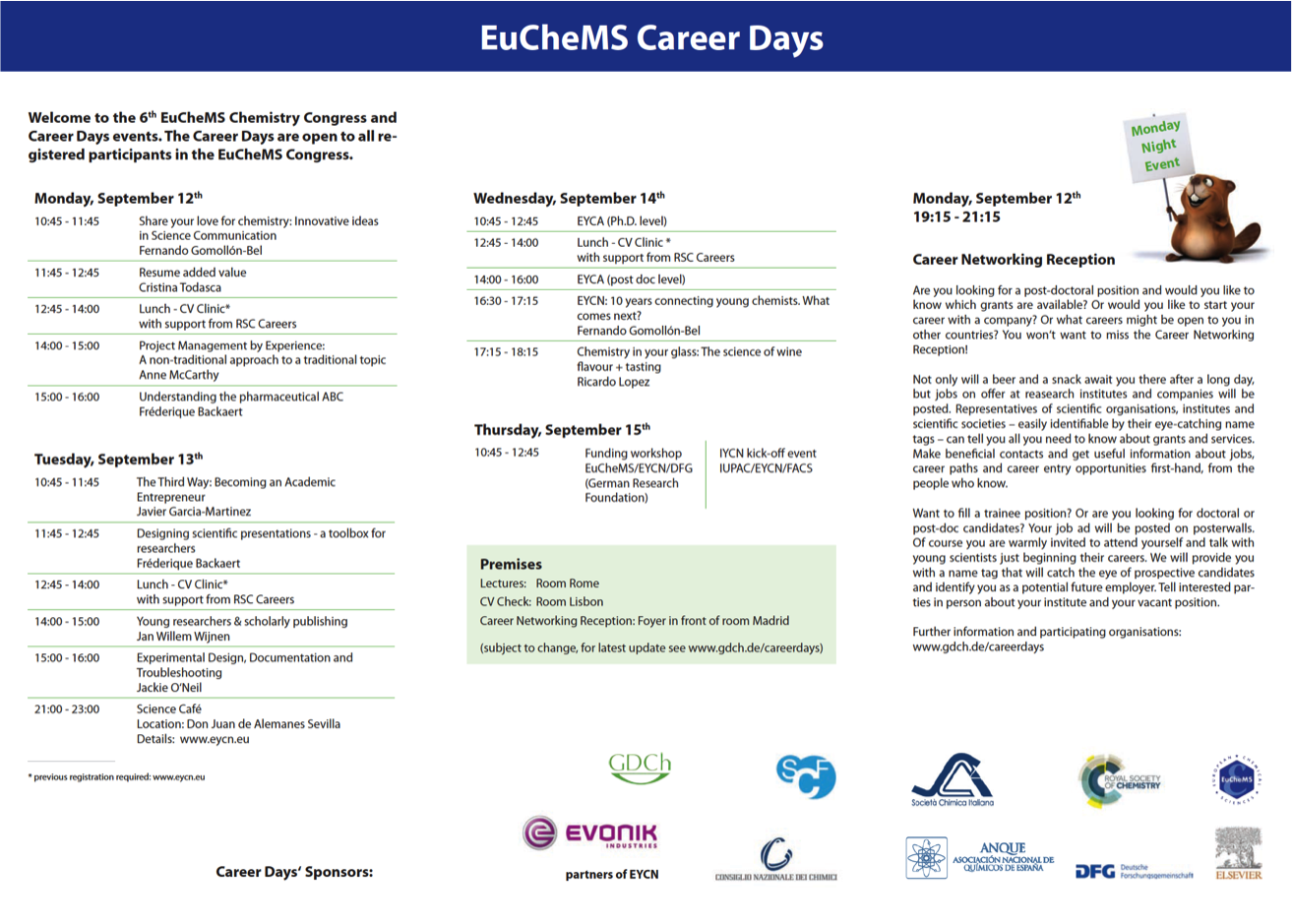 Take into consideration that a registration is required for the CV Clinic! This in order to limit the number of participants for each session and to maximize the advice for your career!
Please register HERE!
Moreover, on Thursday September, 15th, the EYCN in collaboration with the German Research Foundation set up a workshop discussing the possible funding opportunities in Europe. This workshop will take place in Room Roma! Please have a look at the detailed program below.
See you soon in Seville!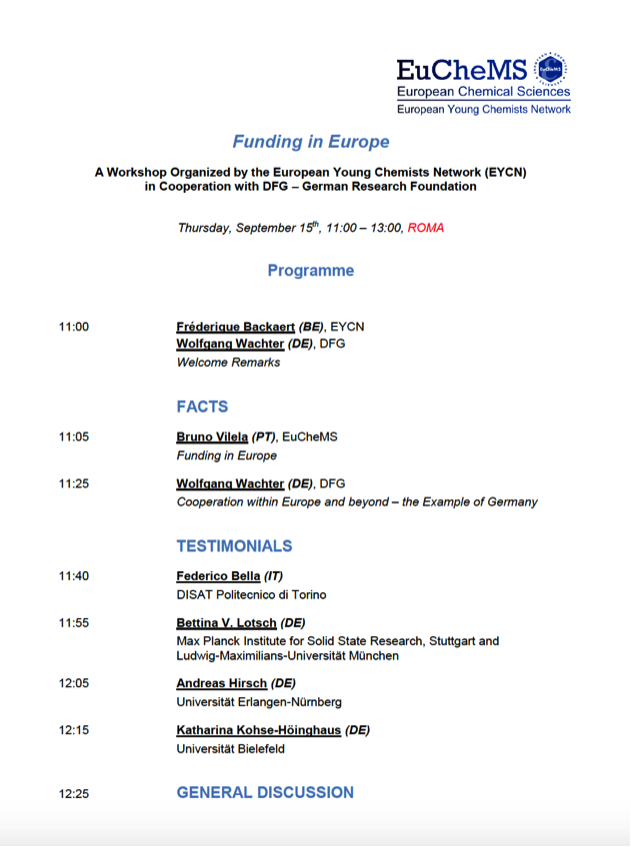 European Young Chemist Award 2016
The European Young Chemist Award 2016 is intended to showcase and recognise the excellent research being carried out by young scientists working in the chemical sciences and will be presented at the 6th EuCheMS Chemistry Congress to be held in Seville from 11-15 September 2016.
The European Chemistry Congresses are the most relevant events for the European Chemistry community. Chemists from all parts of Europe, come together to present and discuss the latest achievements in cutting edge chemical sciences. There is no other occasion where chemists from different countries, all areas of chemistry and various professional backgrounds can converge in one place.
In order to apply applicants must submit a number of documents to EuCheMS (euchems.award@gmail.com) before the deadline of the 1st April 2016.
PHOTOCHIMICA
The European Young Chemists' Network (EYCN), the younger members' division of the European Association for Chemical and Molecular Sciences (EuCheMS), invites you to participate in the first European Photography Contest – named Photochimica 2016.
Under the slogan "Chemistry is everywhere!" the EYCN wants to promote chemistry through visual arts, by its presence in our daily life, in every situation.
You don't need to be a professional photographer or chemist. The competition is aimed at youngsters below 35 years who are passionate in photography and chemistry. The submission runs from 1st of February to 6th of March 2016.
COST ACTION Scholarship
Thanks to the amazing work of our Networks team, leaded by Dr. Michael Terzidis, we have arranged a collaboration with a COST Action within the H2020 program. We have managed to create a scholarship that will fund the travel expenses, accommodation and conference fees to attend the Young Investigators session of the joint meeting that will take place 25th – 27th April 2016, in Grenoble (France). The awardee will also be invited to present his/her results in an oral communication. For further details, please check our website EYCN. In addition to reading the PDF please distribute it among your young chemist network, friends and colleagues.