EYCN Projects
In 2015 we have generated a new system for submitting projects. You can submit projects for which you want to make use of the EYCN resources.
You can apply using this form: PROJECT_PROPOSAL_2017
Please find information about the past EYCN Projects:
Delegates Assembly
EYCN Poster Prizes
COST Actions
EYCA
Chemistry Rediscovered
PHOTOCHIMICA
Career Days
Treasure Hunt
The EYCN meets once a year in the Delegates Assembly.
12th Delegates Assembly
In May 2017 the 12th Delegates Assembly was held in Heraklion, Greece. The event had representatives from 18 different European countries who discussed the work done by young chemists during the past year and made future plans. New Board was elected (see the new members of the Board here).
11th Delegates Assembly
In April 2016 the 11th delegate assembly was held in Guimaraes, Portugal. The event saw representatives from 16 different European countries meet to discuss the work by young chemists from the past year.
EYCN Poster Prizes
2017
One poster prize awarded during the 5th Conference of the Young Chemists of Serbia in Belgrade to Dragana Barjaktarević.
One poster prize awarded during the 17th Austrian Chemistry Days in Salzburg to Nastaran Hayati.
Two poster prizes awarded during the 69th Irish Postgraduate Colloquium in Dublin to Aishling Dunne and Vuslat Buk.
One poster prize awarded during the V Portuguese Chemistry Students Meeting Chemistry (ENEQUI) in Coimbra to Andreia Espirito Santo Cunha.
2016
One poster prize awarded during the 22nd Hellenic Chemistry Conference in Thessaloniki to Constantina Diamanti.
One poster prize awarded during the 4th Conference of the Young Chemists of Serbia in Belgrade to Sanja Stojanović.
One poster prize awarded during the 4th Journeys of Mediterranean Young Researchers (JMJC) in Nice to Elena Bovio.
Two poster prizes awarded during the Merck Young Chemists Symposium (MYCS) in Riccione to Claudia Caprini and Flavio di Pisa.
One poster prize awarded during the 4th Royal Society of Chemistry Early Career Symposium in Glasgow to Stacey Webster.
2015
Two poster prizes awarded during the 15th Sigma-Aldrich Young Chemists Symposium (SAYCS) in Rimini to Claudia Cioce and Arianna Rossetti.
One poster prize awarded during the 3rd Conference of the Young Chemists of Serbia in Belgrade to Stepan Stepanović.
European Cooperation in Science & Technology (COST)
COST Action CM1407 "NATCHEMDRUGS" International Award for a young chemist awarded to Elena Lenci in Kracow (Poland) in 2017. Topic: "Challenging organic syntheses inspired by nature – from natural products chemistry to drug discovery".
Prof. Bruno Botta (chair of COST Action), Elena Lenci (COST Action 2017 winner), Dr. Federico Bella (EYCN representative)
COST Action CM1201 "Biomimetic Radical Chemistry" and the ITN "ClickGene" Prize awarded to Stella Totti in Grenoble (France) in 2016.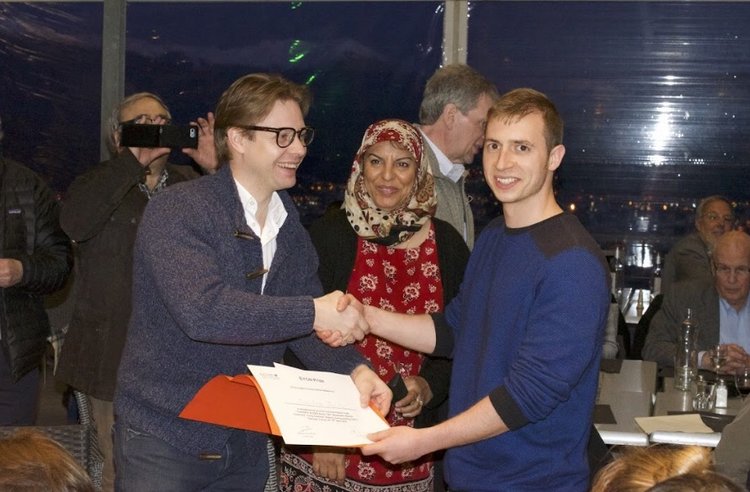 Ilya Vorotyntsev (EYCN representative), Stella Totti (COST Action 2016 winner)
European Young Chemist Award (EYCA)
The European Young Chemist Award 2016 is intended to showcase and recognize the excellent research carried out by young scientists working in the chemical sciences.
Congratulations to the winners of the European Young Chemist Award – EYCA 2016!
At the PhD level, Guilio Ragazzon (University of Bologna) was honored with the gold medal and Mercedes Zurro de la Fuente (University of Regensburg) was honoured with the silver medal.
Special mentions were given to Federico Bella (Politecnico di Torino), Filippo Monti (CNR and University of Bologna), Bill Morandi (Max Planck Institute for Coal Research, Mülheim) and Silvia Osuna (Universitat di Girona).
The awards were sponsored by the Società Chimica Italiana (SCI) and the Consiglio Nazionale dei Chimici (CNC), and the special mentions were sponsored by the Asociación Nacional de Químicos de España (ANQUE).
The 2016 award scheme operated under the patronage of EuCheMS, SCI, CNC, EYCN and ANQUE.
For more information about the past EYCA awards click here
Chemistry Rediscovered – Playing with chemical reactions
On behalf of the European Young Chemists'Network (EYCN), the younger members division of the European Association for Chemical and Molecular Sciences (EuCheMS), we are very thankful for your participation in this first edition of the European video contest – Chemistry Rediscovered. This contest intended to promote chemistry among the young high-school students from all Europe. This was achieved with the help of teachers who developed scientific projects together with their students and encouraged them to present their findings in a form of a video-experiment, together with an accurate experimental protocol. We received a total of 15 amazing videos and experimental protocols from 8 participant countries and the quality and originality of the projects exceeded all expectations for this inaugural edition. It was a pleasure to watch every single one of them! 
Even though it was tremendously difficult for us to evaluate such a competitive contest, we finally managed to choose the best 5 teams.
Please find below the overall classification of this competition.
Chemistry Rediscovered – Final results
Thank you once again for your partecipation, we definitely hope to have you as participants in our upcoming events!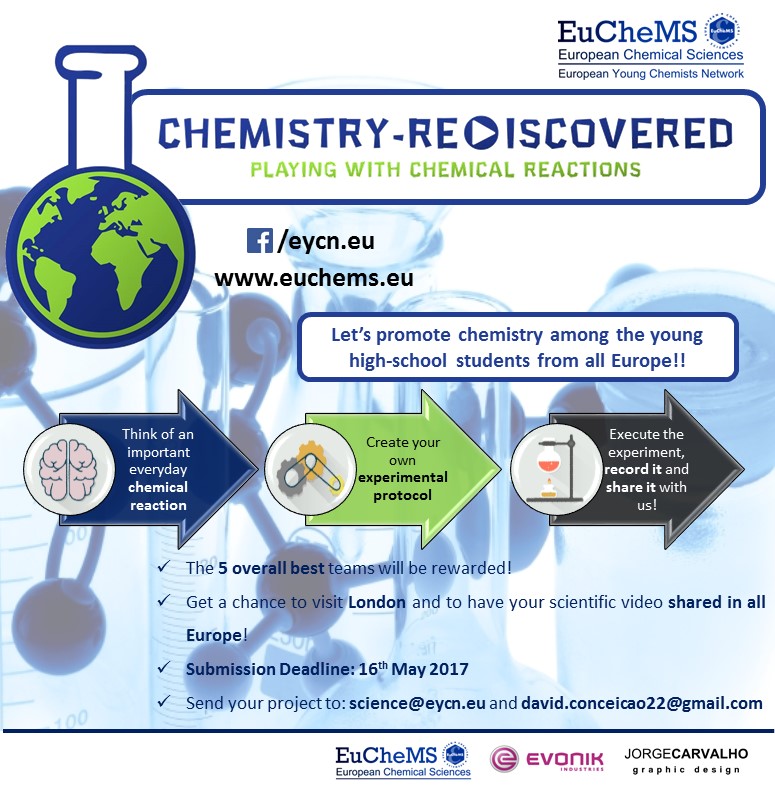 After a very successful project, the EYCN wants to thank our partner EVONIK and our sponsors BASF Romania and Brenntag Romania for all the help and support they contributed and an amazing cooperation.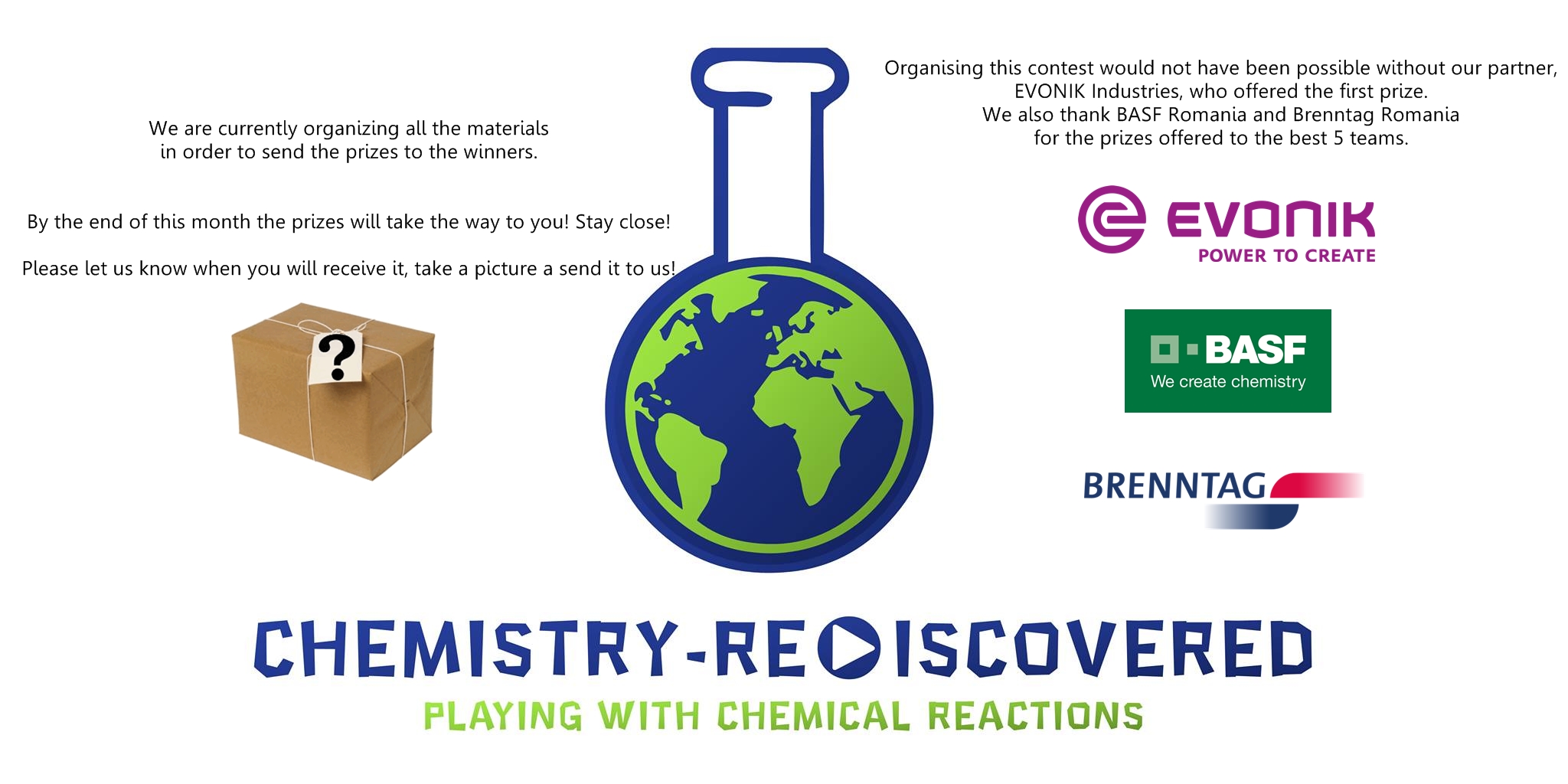 You can read previous Rules and Regulations and Project Application for Chemistry Redoscovered 2016.
Photochimica 2017
Deadline: October 25th, 2017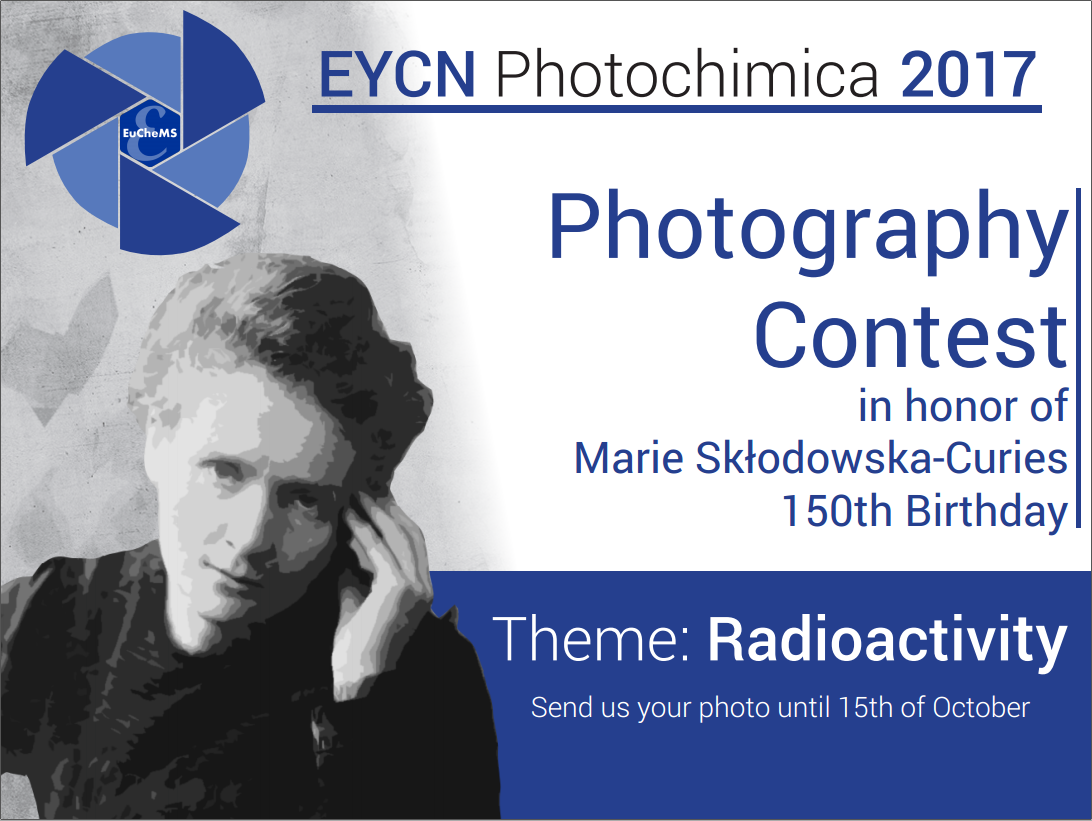 Radioactivity!
This is the theme of this year's (2017) edition of Photochimica, the European photography competition for scientific photography. Starting today and until the 25th of October, you can submit your scientific photos related to the theme 'Radioactivity'.
For the rules and regulations, please visit this link.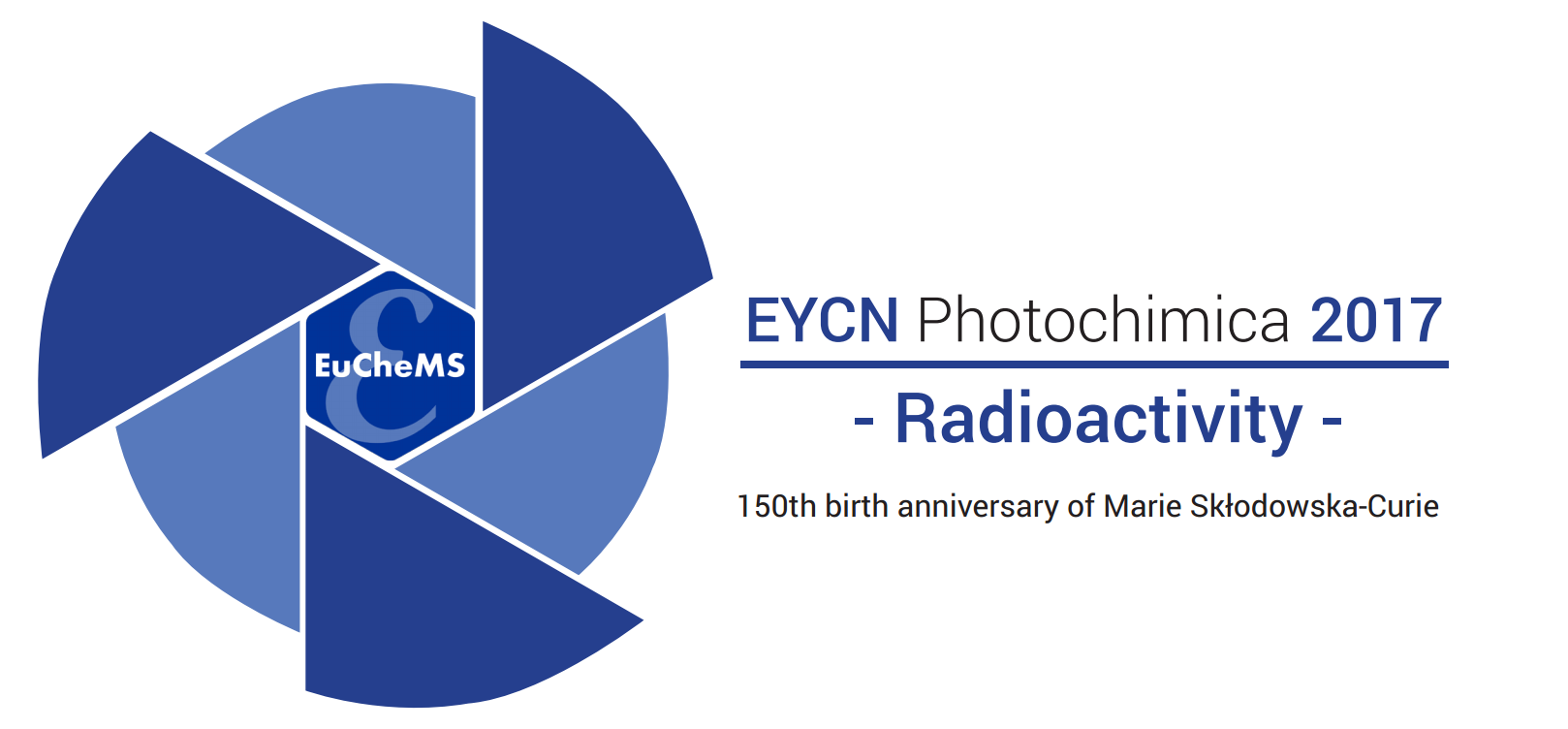 The first European Photography Contest – Photochimica 2016
Under the slogan "Chemistry is everywhere!" the EYCN wanted to promote chemistry through visual arts and to show presence of chemistry in our daily life and situations.The competition was aimed at people under 35 years who are passionate in photography and chemistry.
Career Days
During the previous EuCheMS Chemistry Conference (ECC) in Seville (Spain) in September 2016, the EYCN organized a four-day career event. These "EYCN Career Days" were filled with lectures and workshops which were specifically designed by young members and created for young chemists looking ahead to their future career in academia or industry. In order to achieve these series of events, the EYCN strongly collaborated with industry, academic (funding) institutions and publishing authorities. In addition, the event was jointly organized with the GDCh Career Services & RSC Careers.
See the complete program here
Treasure Hunt
The Treasure Hunt was a project organized by the ReAcTiON team – undergraduate students of Chemistry of AUTH (Aristotle University of Thessaloniki), and in collaboration with the EYCN. The aim was to bring the participants closer to the history and practice of chemistry. Through simple yet interactive and entertaining procedures and tasks the players were asked to understand chemical terms (e.g. neutralization), solve riddles, move in space and time to correct the time discontinuous and be the first to reach the prize.
The "Treasure Hunt" project is under the aid of the Aristotle University of Thessaloniki, the Department of Chemistry of AUTH, the Association of Greek Chemists (AGC) in Thessaloniki and the Association of Chemists in Northern Greece.